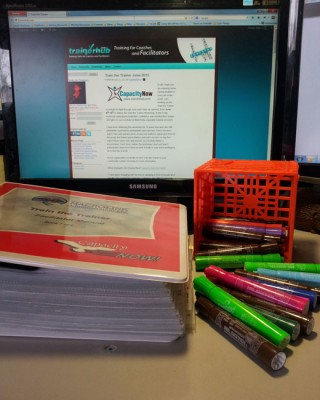 After facilitating workshops for more than two decades, I'm still amazed how no two groups of participants are ever the same. The workshop invariably takes on a life of it's own depending on the needs, abilities and energy of the group. I love to start participants of Train the Trainer with a learning circle. The learning circle is an ideal tool to build trust, and a great way to get an idea of partcipant's expectations and goals for the training session.
Learners come to the workshop carrying a full life-load with them. They will come for their own reasons, and they will all bring with them the opportunity to create a relevant, safe and fun learning event. Each learner also brings a wealth of knowledge, experience and skills to add to the learning mix.
As a Trainer, flexibility is key. I go into each training session armed with the goals of the group and the activities to achieve these goals. I prepare guidelines, materials and handouts to keep sessions on track, but always remain flexible to work with the participants to meet the unique needs of their group.
I control and prepare what I can ahead of time. The size of the group, the activities, the handouts, the way the furniture is arranged in the room, and I check to make sure the Mr. Sketch smelly markers have life in them. It costs nothing to do a bit of advance checking and testing, and it can help avoid malfunctions during a training session. Elimination of some of the potential surprises frees up mental energy to embrace and enjoy the training – the question from a participant that gets the entire group excited, a break out brainstorming session, a spontaneous request to extend the session through lunch, through dinner, into the evening and over the weekend. Okay, I'll be honest that one happens less frequently.
Above all else, when I head into a training session I bring a healthy dollop of preparation, creativity, and innovation. The learners are the true magic ingredient of facilitation and it's the learners who have kept me excited about delivering training for close to 25 years. The Train the Trainer Workshop teaches others how to lead exciting, lively workshops with confidence. For more information on hosting Train the Trainer in your community contact me at dan@trainerhub.com